Where & how it all started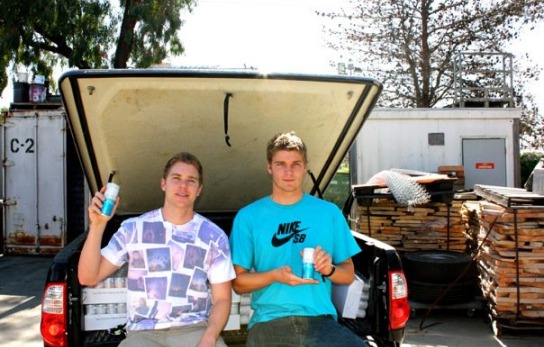 In March 2010, my friends and I started a beverage company called JUST CHILL. We started selling out of the back of my Toyota pick-up truck, stopping at every store that sold beverages to make our pitch. We received plenty of "nos" but each "yes" gave us the confidence to continue. 
Once we landed on the shelf of our first Whole Foods, we wanted to do whatever we could to ensure we could build a powerful sales story to take to other grocery buyers and investors to grow the brand. Retail buyers and investors told us they cared about one thing: Sales Velocity. Being in 10,000 stores doesn't matter if the product doesn't move well, because eventually it will be replaced by a newer shinier brand. It all comes down to ensuring you are moving well in the grocery chains you are in. Two words: Sales Velocity. 
In order to increase our sales velocity, we would work with the store managers to get better placement and use our salesmanship to land some nice displays. It worked. We found ourselves selling more than we could handle by ourselves and soon other retailers requested the product. 
So we raised some money and hired a few area sales managers. Looking at the Whole Foods sales data, we noticed the biggest activity that drove the highest sales velocity was excellent retail execution and field sales – landing those cold boxes and displays made our sales go up 3-5x! But it was also way too expensive to continue to hire internal area sales managers as we expanded into more chains in different states like HEB (in Texas) & King Soopers (in Colorado). We needed a solution… 
At that moment, it hit me! What if we could share a network of area sales managers with other food & beverage brands so we could reduce the overall cost but still have sales reps going into stores to improve sales velocity? We could limit the amount of brands each rep would service per store visit so they could have a meaningful impact for each brand including conversations with the grocery team leaders and building brand advocates. Boom! 
In 2015, Basemakers was born with a small $4,000 investment and a lot of hope. In 2018, my partners and I sold JUST CHILL, the original beverage company, allowing me to focus my efforts on Basemakers. Now we have made over 1 million store visits on behalf of over 200 brand partners and made the INC 500 list of fastest-growing private businesses in America 3 years in a row! 
Our vision for the next 10 years is to help build world class brands through developing Basemakers into the most loved and most skilled sales company. 
If you are interested in improving your sales velocity, reach out to us on our contact page. If it's a fit, we can work together to help your brand reach its full potential.  
-Max Baumann, Founder/CEO
Always strive for greatness in what you do.
Do things the right way and follow your moral compass.
Always have your teammates back.
The powerful tool we aim to master that helps get things done, builds connection and belonging amongst us all.
Never give up, even when the cards are stacked against you.
We spend so much time selling food & beverage brands that we started to think about all the people that don't get to enjoy them. The families that are in difficult financial times and can't afford their next meal. In order to help, we've partnered with Feeding America to help reduce hunger across the country. We donate over 100,000 meals every year and we're just getting started!